Author Archive
Posted on August 5, 2020 by
How Have You Pivoted Your Life for the World We Live in Right Now?
In this uncertain time we all have to adjust and make changes. Historically Real Estate Investing has created the largest amounts of wealth. Some would say that buying Real Estate is not only the best way, the quickest way, the safest way, but the only way to become wealthy. Believe it or not, this is the time to take action to get started in Real Estate Investing or to make changes in your existing business and you are in luck!
At our next Atlanta REIA Online Meeting on Monday, August 10th from 6PM-9PM and Tampa REIA Online Meeting on Thursday, August 13 from 6PM-9PM, both on a Zoom Webinar, we are going to be doing a 2 Part Series on the 5-Stage Blueprint to Closing Any Deal, even in uncertain times! We have invited some special guests to walk you through the 4 marketing secrets that are bringing in the most deals right now, how to analyze a deal from determining the After-Repair Value to figuring out your best Exit strategy. But not only that, they are going to show you how to have unlimited resources for funding your deals and much, much more.
After 400+ deals our guests have learned a thing or too and will be sharing all of their tips and tricks and how they've pivoted in their business over the last few months to save you the time of recreating the wheel so you can get right to the fun part!
Jason Roberts and Rachel Schneider, top real estate investors and national speakers, have offered to come share their investing strategies that have created not only a profitable real estate investing business but how they can do this in less than 20 hours a week! Jason and Rachel have tried every guru out there's marketing and found out what really works and what doesn't so you don't have to!
Join us virtually on Monday, August 10th from 6PM-9PM at Atlanta REIA Online Meeting and Tampa REIA Online Meeting on Thursday, August 13 from 6PM-9PM for this 2 Part Series on Zoom Webinar, where Jason and Rachel will be teaching you:
Their 4 Secret Marketing Strategies on how to make $30K in 30 days, produce $100k+ profit checks and find hidden inventory
Separate yourself from the competition with our unique ways to reach sellers that no one else is doing
How to get every offer accepted by ensuring the seller knows, likes and trusts you
The Deal Analyzer Blueprint on how to not lose money on a deal and increase your profits by 60%
Multiple ways to find the Money to fund your deals
Bonus! How to communicate, negotiate and conduct business with homeowners during COVID-19
Register to attend Part 1 at Atlanta REIA Online on August 10th at: http://AREIA.us/Online
Register to attend Part 2 at Tampa REIA Online on August 13th at: http://TREIA.us/Online
Atlanta REIA, Tampa REIA, Savannah REIA & Chattanooga REIA Members can attend both these online meetings at no charge, so register now!
See you at these two online meetings soon!
Read more at Tampa Real Estate Investors Alliance (Tampa REIA) > Time to Pivot
Posted on March 22, 2020 by
Happening at Tampa REIA
Live In Person & Online Meetings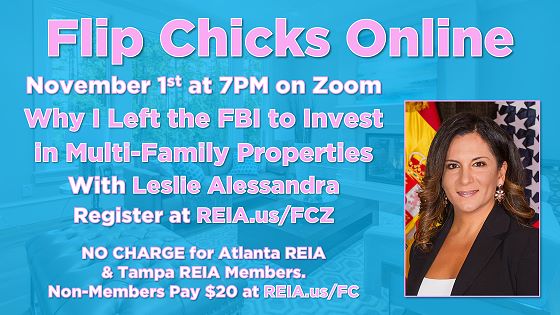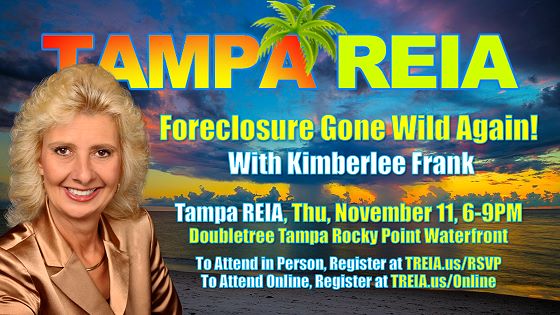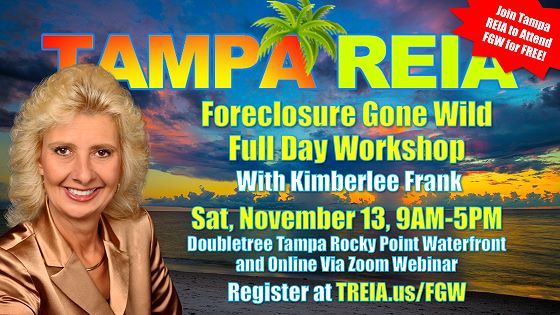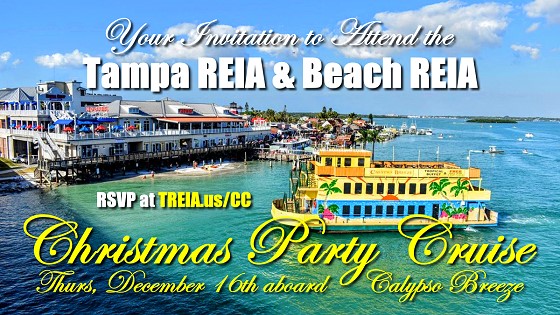 Weekly Meetings
Our Faceboook Groups for Posting & Finding Deals
MEMBERSHIP NEWS
ATTENTION: Tampa REIA Members & Non-Members, we just wanted to inform you that after 9 years, our membership dues are going up starting January 1, 2022. Join or renew Tampa REIA now to save $50/year.
You can join or renew now by clicking the links above to lock in your membership dues at our current rates. If you would like to lock in your rate for multiple years, use the "Quantity" field at checkout to to choose 1 – 10 years. The longer you lock in our current rates, the more you save!
Membership Bonus: Join or renew your membership from October 25th to November 12, 2021 and attend Kimberlee Franks upcoming Foreclosures Gone Wild Workshop on November 13th at NO CHARGE (Regularly $99 for Non-Members).
Read more at Tampa Real Estate Investors Alliance (Tampa REIA) > What's Happening at Tampa REIA